Systematic Competency Alliance Sdn Bhd (SCOMA) is a Human Capital Development Provider firm.
We provide innovative solutions to client issues in the areas of human resource development and management performance by blending Our Content, Approach and Methodology of the Training, Consultancy and Solution with Competency Based Training Program (CBT), Adult Learning Principles (ALP) and our own SCM's Program – (SCOMA'S COMPENTENCY MODEL) in order to ensure the long term impact of the program and improve our participants competency grade.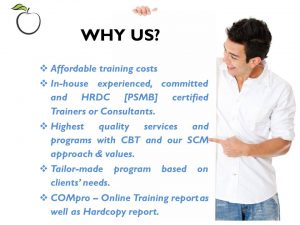 We specialise in developing the PEOPLE suitable for high performance organisation, ESPECIALLY by RETUNING THE MINDSET of the people.
Our program is researched and designed for groups and individuals who aspire to achieve high competency and excellent results, irrespective of their functional roles or positions in the organisation and for their normal life. The flexibility of the program benefits everyone along the leadership/management continuum.
In SCOMA, our Learning model exemplifies the key factors which support successful change management and sustained learning RESULTS.
We concentrate on self-improvement through guiding an individual or group to recognise their competency grade by heightening their attitude, skill and knowledge to achieve successful goal setting and accomplish new results in life.
Our Vision:
To be the leading Human Capital Development Provider (HCDP) Firm in Malaysia and the Asia Pacific Region.
Our Mission:
To unleash the power of our clients' human capital to enable them to stay ahead in today's fast paced and highly demanding Human Capital Development by enhancing their competency grades. We will provide them with the Tools to improve and create the right changes in their life and enable them to apply it within a stipulated given time in order for them to achieve Self-competence.
Our Commitment:
We are committed to provide continuous learning, competency management and performance solutions which are practical and proven, transferable to your work place, participative, engaging and linked to your clearly defined business objectives. In order to establish a long term working relationship with our clients, we hereby pledge to provide them with prompt service that is responsive to their particular needs, coupled with exceptional quality.
Our Quality Statement:
It is the policy of SCOMA to understand and meet our customer's specific needs, to determine what tasks are required of SCOMA to meet these needs, and to perform each of these tasks to the very best of our ability. We will customise our programs to suit customer's needs, rather than provide an off the shelf program to them. Our consultants will come and visit our customers to conduct an Assessment Study before we recommend any program for them. Our Trainers are PSMB/HRDC Certified Trainers.
Our Products & Services:
Our services range from training, consulting and providing technology solutions either software or system. – With innovative solutions for a variety of specific requirements, including: Existing programs that meet fundamental business needs across industries.
Solutions customised to your brand or unique business issues.
"Blended" programs leveraging your existing content with ours.
Enterprise solutions for multiple-vendor engagements.
As part of any of our products and services, we are committed to attend to the objectives and outcomes that our customers intend to achieve.
Our products & services as below;